The Sedan is a Vehicle in Miscreated.
Overview
Edit
The Sedan is a Vehicle that seats 5 Players (2 in the front and 3 in the back). It is one the most common Vehicles around Orca Island. The Sedan is highly maneuverable and has a good top speed. It spawns in the colors black, yellow, green, red and white. The Sedan comes in two variants, namely the the Police and the Taxi.
Variants
Edit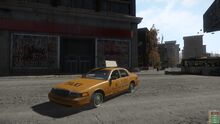 The Taxi variant of the Sedan has a look which is inspired by a cab of New York. It´s yellow with black writing on it. On the roof it has a taxi sign. The performance is the same as of the normal Sedan. There has been a single sighting of a Red Taxi, however this could've been a glitch or a hoax, and no video or picture evidence to back it up. Though there is three different types of taxi, the one to look out for has the smaller yellow taxi sign on top and is call the FULLOUT taxi. Which can match the speed of the police car, but is not as durable as the police car.
The Police variant of the Sedan has a look which is inspired by a police car of Los Angeles. In the front it´s black, in the middle white and in the back black. On the hood and the trunk is a label saying ´Police´. In the front it has an extra bumper. On the roof the Police Sedan has a siren and round lights. The siren can be turned on by pressing ´T´. The top speed is higher than the top speed of the normal Sedan which makes the Police Sedan the fastest car in the game.
Notable Spawns
Edit
Underground parking garage.
On the road infront of the East and West Route 88 gas stations
NOTE: These are not even close to all the spawns. Please add some if you know some, or better yet, a map of all Sedan, and Sedan variant spawns.
Ad blocker interference detected!
Wikia is a free-to-use site that makes money from advertising. We have a modified experience for viewers using ad blockers

Wikia is not accessible if you've made further modifications. Remove the custom ad blocker rule(s) and the page will load as expected.