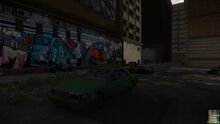 The Sedan can carry 2 people in the front and 3 people in the back for a total of 5. It´s the most common spawning car in cities. It´s highly maneuverable and has a good top speed. The Sedan can spawn in the colors black, yellow, green, red and white. There are also 2 other versions of the Sedan: The Police Sedan and the Taxi Sedan. Despite the Taxi being a reskin of the Sedan, it has different spawns. This is also true for the Police Sedan.
Other Versions
Edit
Taxi Sedan
Edit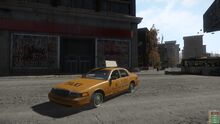 The Taxi Sedan has a look which is inspired by a cab of New York. It´s yellow with black writing on it. On the roof it has a taxi sign. The performance is the same as of the normal Sedan. There has been a single sighting of a Red Taxi, however this could've been a glitch or a hoax, and no video or picture evidence to back it up.
Police Sedan
Edit
The Police Sedan has a look which is inspired by a police car of Los Angeles. In the front it´s black, in the middle white and in the back black. On the hood and the trunk is a label saying ´Police´. In the front it has an extra bumper. On the roof the Police Sedan has a siren and round lights. The siren can be turned on by pressing ´T´. The top speed is higher than the top speed of the normal Sedan which makes the Police Sedan the fastest car in the game.
Spawns:
SEDAN:
-The Sultan Gas Station on the other side of the bridge from the Sultan Church.
-A driveway in Sultan
-Pinecrest Capital Munch
-Brightmoor Residential Area; An alley behind Marco's Bar.
-Hayward Residential Driveway
-An Alleyway behind the Law Offices in Hayward Valley
-The larger of the two 24s (That lacks gas pumps outsides)
TAXI:
-Pinecrest Shop-N-Save
-Sultan Gas Station
-Woodhaven Gas Station
-Brightmoor 24 parking lot
-Hayward Residential; A cul-de-sac
-Hayward Valley, an Alleyway near the Bueno
-Hayward Valley Underground Parking Lot (No video or picture evidence yet to back this up, someone please confirm.)
POLICE CAR:
-Hayward Valley Police Station (Back)
-Hayward Valley Police Station (Entrance Area)
-Hayward Valley, an open area of road next to the Hotel and Refugee Center.
NOTE: These are not even close to all the spawns. Please add some if you know some, or better yet, a map of all sedan, taxi and Police Car spawns.
Ad blocker interference detected!
Wikia is a free-to-use site that makes money from advertising. We have a modified experience for viewers using ad blockers

Wikia is not accessible if you've made further modifications. Remove the custom ad blocker rule(s) and the page will load as expected.