Pinecrest is one of 6 towns currently in Miscreated. It's a pretty large town with 2 residential housing areas on either side, with shops and stores in the middle. It does not have much loot spawns, but because it's so close to the center of the map it is quite common to see many people there. It does have several Bus and Sedans spawns, and 1 or 2 5-ton Truck spawns, however.
Points of Interest:
Shop n' Save
Hardware Store
Labrie Clothes Store
Fire Department
NOTICE: This article is lacking in pictures and proper formatting, alongside other important details. Please add these if able!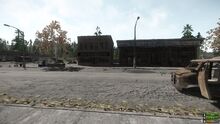 Ad blocker interference detected!
Wikia is a free-to-use site that makes money from advertising. We have a modified experience for viewers using ad blockers

Wikia is not accessible if you've made further modifications. Remove the custom ad blocker rule(s) and the page will load as expected.