This beat up truck can seat 3 in front and 3 in the back for a total of 6.
Notable Spawns:
-Outside the Shop-N-Save at Sultan
-Pinecrest Derby
-Hayward Valley Police Department
-Woodhaven Motel Parking Lot
-Warehouse parking lot in Brightmoor.
There are several more, however these are the most notable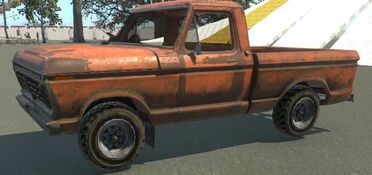 Ad blocker interference detected!
Wikia is a free-to-use site that makes money from advertising. We have a modified experience for viewers using ad blockers

Wikia is not accessible if you've made further modifications. Remove the custom ad blocker rule(s) and the page will load as expected.