Miscreated is a multiplayer, post-apocalyptic, survival-based sandbox game created using CryEngine. It's now available for Early Access on Steam and is in the Alpha stage.
Update #63 - 08/31/2018
Servers
Fixed a common server crash related to item handling (about 50% of all current crashes)
Fixed a common server crash related to AI (about 50% of all current crashes)
Some server optimizations related to bases
On server start kiosk support is disabled until the Steam inventory configuration data is received from Steam - can still be disabled by admins as well
Potential fixes for a couple of AI related server crashes
Prone
Prone support has been added to the game - default 'z' key to go into prone stance
It works well on slopes up to 45 degrees and in tight spaces - the player can also prop up on smaller objects
All usable items stay equipped, unusable items get automatically dequipped (guitar, bow and most melee weapons)
Usable prone items are all shooting weapons, all utility/tools, throwables, and the knives
During prone movement certain actions are blocked (as the arms are busy) and have to be performed while not moving (aiming/shooting, weapon switching, emotes etc.)
We ironed out most issues on the experimental server - thank you for helping to test and we plan on sligthly extending the prone feature at a later date
Game
Improvements to collision detection when opening/closing doors and gates
A player that newly spawns/respawns will now have a basic map in their inventory
Fixed issue where some items could be restored with the wrong health value
Rebalanced radstorms and nuclear flash freeze
Pressing the jump key will now cause the player to stand up from any stance
Some new skins added
Fixed damage done to items on players - damage is only applied now after all other game/faction multipliers
When a player, tent, vehicle, item on the ground, etc. gets shot it may also damage items inside of it
The amount of damage done to items has been adjusted for all items
Almost all items in the game now have a health value
Some trivial items, like sunglasses, will automatically be removed if their health is reduced to 0
The damage done to a weapon does NOT currently affect the weapon's damage output - that will be in another update
Adjustments made to breathing, vomit, and blood particle effects
Fixed an issue that was causing some items to be damaged twice when hit
Campfires will only damage items inside of it while lit
Fixed issue where traps wouldn't appear at times after a server restart
Base Building
Doors will now stop and reverse direction if they collide with a player
Fixed issue where the action menu wasn't being reset correctly after interacting with base parts
Kiosks
Vehicle camouflage skins cost 20 amcoins, instead of the standard 10 for solid paint colors
Fixed an issue where amcoins could be deducted incorrectly while storing an item in a kiosk (caused by the above issue)
Fixed an issue when retrieving some items from the kiosk - would remove it from steam inventory but not be given to the player
Vehicle Skins
Increased chance to be awarded a vehicle skin while driving
Skins added for the SUV and dune buggy
Orange, pink and purple colors added for all vehicles that currently have skins
Camouflage skins added for dune buggy, pickup truck, base sedan, suv, and semi trucks
Vehicles only spawn with solid colored skins, not camouflage - players have to apply camouflage skins
Vehicles
Decreased number of dirtbikes from 5 to 4
Increased number of semi trucks from 1 to 2
Slightly decreased the top speed of some vehicles
A vehicle will automatically stop if a required item is destroyed inside of it
Items
Increased chance for frag grenades to spawn
Increased chance to find the hazmat mask and tank
Repair kits added for cloth, leather, canvas, and teflon items
Decreased weight of the tranquilizer gun
Adjusted movement sensitivity on weapons while aiming
Increased the physics proxy size of the amcoin ledger to help prevent it from falling through the ground when dropped
AI
Critters may now randomly spawn around players while players are running around
AI will now make use of some animation variations
AI's visual perception now scales based on a player's stance and movement speed
Some AI will now spawn wearing clothes
Spiders spawned by performing a world action (searching an item) will now scurry away before they come back to attack
UI
Allow rebinding(ui+save+load) of empty inputs (for actions that haven't been bound on a specific device)
Allow rebinding of controller mouse emulation (click and context menu)
Unbind previous stance DPAD up from controller (instead use DPAD up for tactical) -> Jump now causes stand up And next stance cycles as well
Bind DPAD up to tactical action
Fix the reset of keybinds to work in-game as well (restore actionmap/filter states)
Some general improvements to speed up the inventory loading time - more improvements will still be made
Added new stances to the stats bar UI
Adjusted keybinds and added some new keybinds to the UI screen
The keybind configuration for controllers has been changed - be careful remapping now as it could break access to features
Zoom sensitivity scale added
Updated wheel slots to now be consistent with other items in the inventory
Map
More cars on the highway ramps near the beach farms north of the map
Replaced fire hazard areas with updated new areas that support heat for the player stats
Animations
Prone animations added
Fixed foot ground alignment for standing and crouching idles
Verified all weapons have movement in sfp during idle animations
Fixed vector reload sound set up
Giant roach mesh update
Gas mask mesh updates
News!
Even though we will try to keep this page up to date with the most important announcements and updates, don't hesitate checking out these various ressources for day-to-day activity of the dev team!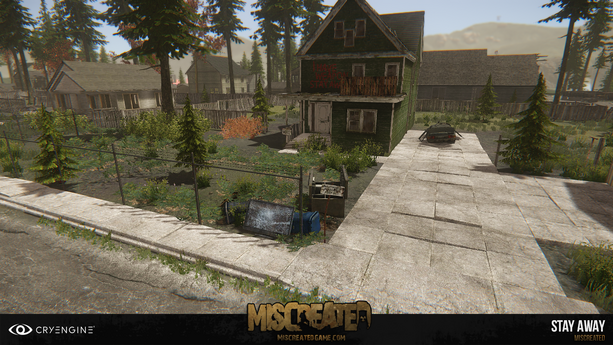 The year is 2089. The Earth is in ruins from two major nuclear wars. Civilization has collapsed and the majority of mankind has been wiped out. Each day is a struggle to find food and water to live, weapons for defense, and gear to withstand the harsh unforgiving wasteland that was once earth. The city centers and areas once called home and work are now populated by grotesque mutated humans, minds rotten from radiation and sickness. Bandits fight for control of what's left, executing everyone they come across or using them for slave labor and food. This is the world as it exists today, there is no law. Kill or be killed. Survive or Die.
Realistic Bullet Physics: Bullet trajectory will change based on gravity, air resistance, and wind.
Unique Construction system: Use many of the same materials for crafting to create walls, barricades, gates and roofs to construct your secret base deep in a cave or high on a mountain. Store your items in vaults and protect your camp from enemies!
Dynamic Item Spawns: Weapons and items will usually be found in logical places, but can also be found anywhere in the world. Be sure to check everywhere for items – lockers, stoves, cupboards, and many more.
Persistent Characters: Your character's stats and items will be saved when you exit the game. When you log back in, you will have your health, items and location all restored.
Comprehensive Inventory system: Store items on your character and collect weapons, ammo and other useful items. You can also find additional items to increase the amount of storage space your character has – like backpacks.
Crafting: A basic crafting system is implemented allowing you to make more powerful melee weapons and items such as advanced bandages. The crafting system is being expanded as the game progresses.
Food and Water systems: Keep your hunger and water levels up in order for your character to function at maximum efficiency. Low levels of food and hunger have a negative impact on your character's performance.
Radiation System: Keep away from radiation to keep your level down. High levels of radiation will also affect your character's performance.
Permadeath: When you die all of the items you were carrying stay with your character's corpse. Other player's can take them, or you can retrieve them yourself if they are still there when you get back to the corpse.
Free-for-all PVP: Kill anyone at anytime and steal their loot. There are no safe zones. However, it will be very beneficial in the long run to make a few friends.
Dynamic Weather System: Rain, snow, fog, wind, and other weather patterns are all dynamically generated and will create unique game play opportunities. The intensity of weather patterns will also be supported – from light fog to dense fog, for example.
Full Day/Night Cycles: Charge in during the day or wait until night time for a sneaky approach. The game features a real 24 hour clock based on the location of the server you are playing on.
First and Third Person Camera Views: Switch views based on personal preference (can be limited based on individual server settings).
Underground Areas: Explore hidden underground bunkers, caves, and caverns. Explore the map well as some will be hard to find, and you'll have to swim to get in some of them.
Ingame VoIP: Realistically attenuated voice communication
Vehicles: Three vehicles are currently fully functional in the game. Scavenge for parts to get them running!
Random Encounters: Encounters can be spawned dynamically and located anywhere on the map.
Incapacitation System: Allows other players to revive or execute you based on conditions surrounding your death.
Compelling PVE: Watch out for mutants who want nothing more then to post your head on a pole. These aren't just boring zombies that slowly shamble towards you. A variety of unique enemies will exist all with the sole function of eviscerating you and devouring your corpse. Bandits will also use a variety of weapons both ranged and melee to make sure today is your last day.
Item Storage: Stash items around the world in items such as tents, vehicles, and other items. Return to them later to retrieve your items – if another player hasn't found and taken them at least.
Bounty system: Place a contract on someones head or go reap other bounties yourself.
Persistent World: Explore a huge world with a playable space of over 64km² (8km x 8km). * atm only about 20% available
Latest activity
References